*Article by Rachel at Momming and RunnIng
A coworker of mine came back to work today, her maternity leave just ended. Boy did that bring back the feelings. I could see her eyes getting a little glossy when her husband was sending her pictures of the baby and when she was filling us in on her childcare plan. I just wanted to say – Girl, I FEEL YOU. She held it together, stayed so strong. She didn't have to. Going back to work full time after having kids was the hardest thing I have ever done. As one of my friends has said before — we all have our own version of what is "hard." The things we go through in this life change the meaning of how we define hard, and it keeps changing, over and over again. I could speak to a few things I have accomplished/have been through that were hard. But being a Mom? This shit is hard!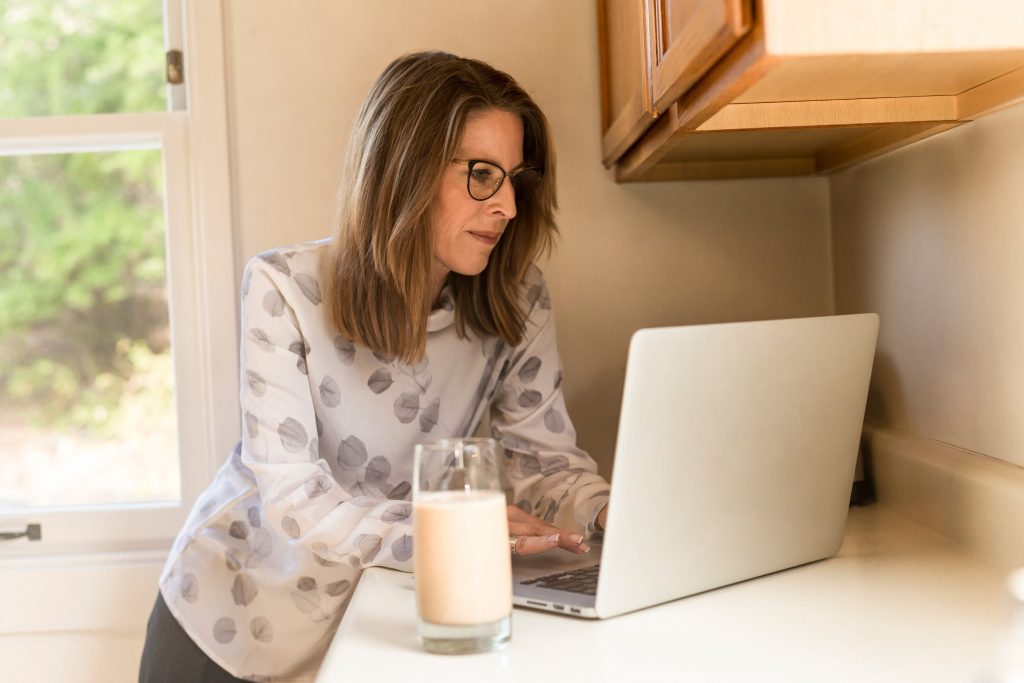 Something I never imagined would be this hard — going back to work after having a baby. WOOF. Its been almost three years and it still gets me. After I had my oldest daughter, I floated through maternity leave, learning all about my new life as a Mom. The fall Ohio days were beautiful, we would walk for at least a few hours a day. I would also scramble around the house trying to keep every inch of it clean, as I felt guilty being off of work for some reason. But overall, I enjoyed being at home and never thought this little one would bring me so much pure joy. Though, I knew it was coming to an end, just like all good things do.
The day had come. I packed up my things and 500 bags later, I was off to work. I was asked to mentor a new hire the day I got back to work. I am 100% sure I AM THE ONE who needed a mentor that day. That week. That month. I was on the verge of a breakdown all day. Everyone I caught up with was so supportive, happy and kind enough to ask about my daughter. It was great. And then I would go in the little closet and pump, and sob. And sob some more. I was a complete disaster. I didn't know if I could do this. I didn't know if I wanted to do this.
By the end of the day, I couldn't leave fast enough. But, wait a minute – my boss and the General Manager asked to speak with me before I went home. Uh oh, I thought for sure I messed something up and I was getting canned. Little did I know, I was being offered a promotion.
Holy. Shit.
I was speechless. This is NOT what I expected – not at all. WHOA. I mean, I applied for the promotion and I wasn't sure if I would get it. But I sure did. I came home that night, held my baby and just sobbed. My poor husband had to think I was totally insane. He kept asking what was wrong, what happened at work. I finally built up enough of a deep breath to say, "I got promoted…" before I completely broke down again. He congratulated me, but also gave me a minute to get my shit together. This promotion was amazing – but it meant my "work from home" position was changing. So that changed everything. A new commute?! A new job?! I thought I had the sitter and routine all mapped out!
What an emotional roller coaster. I would tell myself that eventually, I would feel okay with this and it's just a phase, just like anything. It just broke my heart to say goodbye to this little human being who couldn't even speak for herself. Did she think I was abandoning her?! That I didn't care? I was overcome with THE WORST feelings. The saddest of sad. I know everyone is different, but is there anyone out there that can relate?! I see so many other moms who don't seem bothered to work 10 hour days, barely see their kids and almost love to be at work…?? To each their own. That life is not for me! Forty hours a week is plenty of time away, I cannot wait to get home everyday and be with them. Maybe I would feel differently if I worked part-time? PRN? Not at all? It's hard to say, since this is the only thing I know.
I am still in the same work position today and it was probably the best thing that happened to me ((Why don't we ever see that from the beginning?!)). My job is rewarding and busy, it sure passes the time and helps keep me on my toes. If I have to work, this job is definitely the fit for me. Even though I still struggle to find the balance between working and momming, I see the good that can come from the kids going to daycare. They are learning how to accept discipline from others, learning how to play with other kids and be a little independent while Mom and Dad are at work. Its just what works for us right now, and maybe someday that will change. It doesn't mean I am less of a Mom or that I don't love my kids. My heart aches for them while I am gone! But I hope that one day they will look up to me for having a successful career and juggling everything they need me for, on top of that!
If you are a Working Mom, you are not alone. I feel you! And you are doing a great job.
About The Author
My blog is my story about being an old-ish runner in a new-ish Mom's body. I am a Dietitan by day, Mom of two daughters and I've been a runner for a short 7 years. I love sharing mom stories as they relate to working mom struggles, emotional roller coasters and achieving my running goals in the mix. Join me in my journey, as we are all in this together!