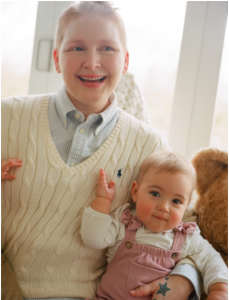 Name
Miss Megan – Head of Product at Batelle Remote Sleep School. Pediatric Sleep & Child Development Expert, Conscious Parenting Expert, Board Certified Holistic Health Coach & Life Coach, and Montessori Directress. 
Email Address
press@batelle.com
Phone
1-347-282-6967
Company
Batelle – Remote Sleep School for babies and young children. Teaches parents how to settle their babies and children to bed in under 5 minutes, within a week, without any cry-it-out tactics – using positive sleep associations.
Website
Social Media Links
https://www.facebook.com/BatelleSleep
As a mom, how do you prioritize your day?
As a single mom, with so much going on with work and limited childcare, it's important to prioritize my day. My two children are such good sleepers from my methodology and completing sleep school. They wake up whenever they feel like waking up (generally around 7-7:30am-ish) and rest or play quietly in their beds, until their designated 'morning playtime' (8am). They can then play independently, for this time in their rooms (an hour), before needing to come to me, or get breakfast, and know they can leave their room any time they need to use the bathroom so long as they return until their independent morning playtime has completed (9am). Ultimately, they can play and hang out because they feel comfortable, trusting, safe, and clear on expectations. This means I am able to shower, get coffee/tea, and jump start my day by first taking care of what I need to for myself – valuable 'mom time.'

The next thing I do is look at where I am going to have that special 'mommy time' with my kids in the day. Even if it is only 15mins a day per child, using a visual timer and making this time a special occurrence, they know and trust that we will have that particular time in the day. I also make sure that I check in on them and give them extra hugs and cuddles when my work schedule allows. I make sure that this 'mommy time' is clear for them because it gives them something to look forward to in their day. Next, I take a few minutes to think about what they can look forward to in their day outside of 'mommy time.' I make sure that they have other principal activities each day for them to do, like their homeschool lessons, swimming and/or particular crafts. 

I always make sure to keep a few activities up my sleeve that I can pull out if my schedule changes and I need to be on an urgent call – such as a special snack or an extra special activity (or toy hiding in the closet that they haven't seen in some time) that they can focus on until I am available for them. This acts as a safeguard to make sure I can address my work, and they are occupied. I also make sure that they know what my schedule is for the day, of course, my kids are 5.5 and 7 years old, but even for a child from 3 years old, you can be having these types of conversations with them so they understand your schedule and how their schedule works alongside. You can help them plan during those periods, so they are happy and busy when you need to be focused on work. 
The final thing when prioritizing my day is to set my medium size goal (personal or professional). I like to set goals and intentions, even if it's just one per day. If I can look back on my day and realize that I've accomplished even one thing that I set out to do, my day was productive.

So three things in summary: 1. Ensuring that there is self-care, 2. My kids get dedicated undivided 'mommy-time' and, 3. That there is a medium-sized goal for my day. Aside from the above 3 ways I prioritize my day, the final way to make sure my day goes as smoothly and is as productive as possible, is to take the guesswork out of the rest of it by making sure I have everything else scheduled and planned. That may mean looking over my diary on the weekend to look ahead at my week, or the night before to make sure everything is scheduled, there are no surprises, and I can reach my goals. 

Bonus Pro Tip: In staying focused, you have to be ok with letting some fires burn. If you can't get to something, don't beat yourself up or let it stress you, try the following day to make time to get it done. 
What made you decide to start your business or blog?
Ever since I was a small child, I had a love and passion for working with children. I was naturally gifted and found it very fulfilling to see how positive an impact I could have on families and children. From a young age, I would babysit in the community and work with the children at my mom's home daycare, and I just knew that this was going to be my destiny and my life purpose. Every single thing I've done in my life has revolved around working with and teaching children from birth to age 15. I have traveled the world as a Governess, Nanny, Baby Nurse, and House Manager.

I received my Montessori training and ran 3 Montessori pre-schools. I kept a Montessori Homeschool for 8 years and an in-home Sleep Center for 2 years. During this time, I continued developing and fine-tuning my non-cry-out sleep training methodology, remotely and in person. After more than 20 years of working with babies and children in such a wide range of settings, all over the world, I dreamt of helping more families and getting my methodology out there. After an introduction to my now Co-founder and CEO, and my founding teammates, where we all had an incredible connection with an alignment of visions and purposes, we created this remote business. Collectively we can help more families and start to get this message out to the world. This is how Batelle was born.
Who are your biggest influences?
Maria Montessori, being the foundation of my formal training, highlights you being the caretaker of the child, preparing the environment to set everyone up for success and teaching you to follow your child, learning to trust your intuition and your childs. Conscious Partnering and Attachment Parenting methodology have also deeply influenced me. They are about correction through connection and mindfulness, empowering the child in their spirit, where you do not tear them down. It is much easier to guide children through connection and respecting their intelligence. Damian Kimmelman (Batelle CEO) because he is the first person to support my dream to bring my methodology to more families at scale. Moreover, his mentorship, coaching and guidance has been invaluable in helping me achieve my potential. Dr Shefali Tsabary and Eckhart Tolle have also been great influences on my life. 
What advice would you give moms who work from home?
Don't ever become too busy to give your children time and attention. As a single mom and sole provider, I find myself beyond busy, and making time to spend with my kids is a priority for me every day. I spend around 30-45 minutes of undivided attention with my kids each day, breaking it down into two or three 15-minute "Special Mommy Time" sessions, and my kids look forward to it each day. During that time, they have my full attention (with no technology) and they get to participate in 'special mommy-time activities' that they can do on their own terms, and it makes the time very special. When I need to go back to work, I give them time-tested tools to keep busy in my absence, and they stay engaged while looking forward to the next time they get to spend time with me. I highly recommend doing this.
What advice would you give moms who are working to start or build their business?
I would say that the thing that got me where I am now is not the thing that's going to get me to where I'm going next. Most mompreneurs are a one-man (or woman) band. They like to have everything under control, to do it all themselves, and to get things done how they want. That got me to the threshold of Batelle, but I had to let all of that go to step into what I wanted it to become. I had to learn how to work with others, to trust others with my business idea and be able to work together as a team. It was tough at first, but after connecting with the right people, fellow like-minded kindred spirits who shared the same vision for the company as I did, it became so much easier to let go and let it become what it is today. There are many networks out there for businesswomen and mompreneurs that help to connect people with the same goals and dreams, and I recommend those for every entrepreneur. Find people who get executed to build your business and see you fly.