The Coronavirus, or COVID-19, is rapidly changing our economy and the way we do business. Major companies such as Amazon, Facebook, Google, and Twitter have temporarily shuttered their brick and mortar offices in favor of allowing employees to work remotely during the crisis. Public events such as Boston's St. Patrick's Day Parade, The LDS Church General Conference (which gets over 100,000 attendees from around the world in one weekend), and South by Southwest have been cancelled, and school districts are announcing more and more closures daily.
In such a volatile economic landscape, how can business owners prepare their businesses and their workers for the unknown? Can businesses thrive in a time of such uncertainty? While the full extent of the pandemic and it's affects can not be predicted, there are a variety of steps a business owner can take to help their operations continue during the outbreak.
Prepare
For business owners, taking steps to prepare sooner rather than later is key. Begin putting protocols in place should a quarantine be put into effect or if you choose to move to remote operations voluntarily. Ensure that employees who might need to work from home have functional equipment, supplies, and access to any necessary software programs or networks. This might mean setting up remote desktops on employees' business or personal laptops to allow access to all of their normal drives. Begin developing protocols for remote work, including plans for any tasks that cannot be completed by an employee at home. In those cases, begin looking for alternative solutions such as outsourcing until regular operations can be resumed.
Thriving in a Remote Based Environment
According to a 2016 Gallup poll, 43% of workers are able to work remotely at least some of the time. The good news is that this means many workers are already able and accustomed to working remotely and maintaining productivity. If you are a business owner who has never had a work from home policy, first of all, don't panic! There are a variety of programs, software, and tools at your disposal to help with the transition and keep your team on task. Worried about losing in-person meetings? Try virtual conference call software like Skype or Zoom. Concerned about keeping up with projects? Try a task management software like Trello. You can even set-up instant messaging platforms like Slack or Teams to allow employees to stay in touch throughout the day.
Adapting your Business
As fears about the virus change the public's daily habits, you may find that you need to change some of your normal procedures in order to keep your business thriving. Worried that you'll lose ground with some customers by not having as many face-to-face interactions? Now is a great time to enhance your digital marketing platform to increase customer engagement. Consider reaching customers through more frequent email communication during this time. With more people staying in, social media and website traffic will be on the rise. Re-allocating your marketing budget to target these strategies as opposed to print media and signage can help you stay connected to your audience. If you own a storefront, now is the time to establish or expand the e-commerce side of your business as in-person sales may decline.
At The Mom Empire, we are committed to helping businesses thrive. Our team of marketing experts can help you navigate the changes caused by the virus and help you stay on track to meet or exceed your business goals. During the months of March-May, we are happy to extend 25% off to businesses using our services to help entrepreneurs succeed during these trying months.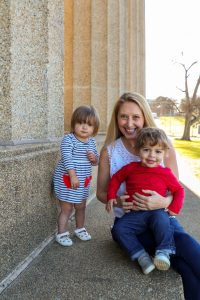 Jenna Nelson, The Mom Empire
Jenna is a Marketing Manager for the The Mom Empire, a freelance writer, and a consultant in the event and tourism industry. She lives in Nashville, TN with her 18-month old twins Maverick and Adaline. In her (limited!) free time she runs marathons, loves to watch football and hockey (Go Knights! Go Preds!) and spends as much time as possible on her boat.